Writing optimised content for search engines can feel like looking for a needle in a haystack. You aren't just writing for your human readers when creating SEO content, after all. You're also writing for web spiders, which is a tool search engines use to inspect the quality of content. These web crawlers then index your content together with other content on the internet.
And out there in the vast digital universe, the webpages and blog posts are PLENTY.
Before you throw in the towel and forget about SEO copywriting altogether, hold up. Writing search engine optimised content isn't as baffling as it sounds. In fact, you might even find it fun, very much like solving puzzles!
If you're ready to start writing content like a pro, then you've come to the right place. This article will teach you how to write website page or blog post content that reaches top positions of search engine results (and we promise it doesn't involve praying to the Google gods).
What is SEO?
Search engine optimisation is a process where you use on-page and off-page optimisation tools to improve your website's ranking on search engines. It drives traffic to your website and gives it more visibility to users.
There are 2 popular search engines that digital marketers rank for: Google and Bing. Google has the lion's share between the two, with a whopping 70% market share.
When writing content for SEO, your main goal is to signal to Google and other search engines that your content deserves the top spot on Page 1 of the search results.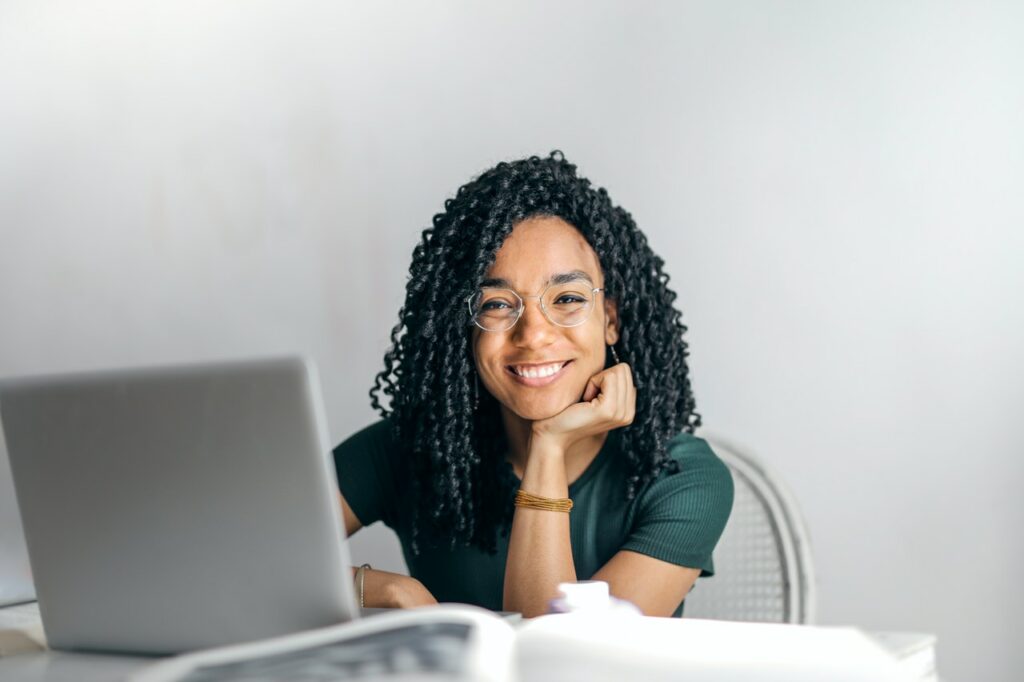 Why do you need to optimise content?
There's writing content 'just because', and there's SEO content writing. The latter is how digital marketing experts do it, and you should do it too if you want your brand to succeed online.
It doesn't matter what the topic of your blog or website is — Page 1 of search results is the ride-or-die goal of any content. The first page of search results is where most readers scroll through and search information from. According to Moz, an SEO software company, 71% of search traffic clicks come from first page results, and the percentage has reached even as high as 92% in recent years.
Page 2 of search results is where some readers search for website content, if they have the patience. Page 2 stats don't even come close to Page 1 results, however. Traffic clicks coming from Page 2 results account for only 6% of total searches.
If you find yourself scrolling through Page 3, you are either very, very thorough, or enjoy the sound of your mouse clicking away.
That said, you can just imagine what happens to content that falls on Page 4 onwards of search engine results — literally nothing if they don't move up the rankings closer to the top positions of first page search results.
This is why you need to optimise your content for search engines — to give your site an opportunity to move up its rankings of search results. Once you achieve top-ranking status on search engines, you'll be amazed at how exponentially your site's traffic will grow.
What a Page 1 ranking can mean for your website
Having a Page 1 ranking creates a snowball effect for your website: more user traffic is driven to your site, which sends signals to search engines that you're an authority in your niche. This drives Google and other search engines to push your site further up the rankings.
Greater traffic means greater chances of bringing in leads for your business.
What does it mean to optimise a web page through content?
When you optimise a web page through content, you're using tools and techniques to make your content as Google-approved and search-worthy as possible. Here's how you can do website copywriting for SEO:
Sticking to one primary keyword

Writing relevant, unique, and engaging content

Following the prescribed word count

Increasing content readability

Following the recommended content format

Plugging in relevant keywords

Including internal links

Refreshing your content
1. Stick to one primary keyword
SEO content writing starts with a target keyword. This keyword ideally has a high monthly search volume. It should also have a high relevance for your business, such as a service you're offering in your location, or a how-to guide that can help your readers learn more about what you do.
This target keyword is your primary keyword, and it is the North Star that will guide your content from beginning to end. And just like the North Star, there can be only one primary keyword. 
When you use one primary keyword, you're helping search engines know what your content is about in the blink of an eye. Sticking to one primary keyword also reduces the risk of erroneous searches on the search console because the reader's search intent is directed straight to the relevant site or blog post.
 2. Write relevant, unique, and engaging content
Here's the tricky part: web crawlers also monitor how long users engage with your content and interact with your site. This means that, as SEO content writers, we cannot totally eliminate the human element. If anything, our users have to be left, right, and centre of our writing.
To keep our human audience engaged on the site  — and indirectly please Google's AI in the process — we need to write high-quality content. A high-quality blog post or website page content has the necessary know-how that your readers won't be able to do without. It should speak of your site's expertise, authoritativeness, and trustworthiness in your industry.
It's not enough anymore that your readers are interested in the topic you're writing about — you need to hook your reader's attention from start to finish. Give your content a great buy-in for your readers, and you'll have a winning article in your hands.
For you to be able to write valuable content, part of your due diligence as a writer is to know your target audience. Some questions you'll want to ask before writing SEO content are:
What is your reader's persona or profile? Are these readers also the same customers in your physical store (if you have one) or do they belong to a completely different profile?

Why are they searching for this particular content?

What are their pain points that your content can aim to solve?
Doing your marketing research and keeping your ear to the ground will keep you updated on what kind of information your readers find relevant and worth looking up on search engines.
3. Follow the prescribed word count
Word count length depends on the type of content and topic you're writing. Typically longer posts with a 1000+ word count tend to rank better than shorter posts. Try not to go below 300 words — you want to show Google that your content is substantial and well-researched.
To know the ideal word count for your content, research the average length used by top-ranking sites in your niche. Use this as reference for your content's word count.
There will be times your content may fall short from the prescribed length and the only obvious recourse is to add fluff to score a higher optimisation score. By all means, resist the temptation to do so. It will only make readers lose interest in your content, and will result in lower rankings and fewer clicks in the future.
4. Increase your content's readability
As a content writer, you want your readers to scroll through your content from beginning to end. For this to happen, your content has to be easy to read and pleasant enough to digest.
You can increase your content's readability by doing the following:
Breaking down run-on sentences into two or more shorter sentences

Using the active voice

Punctuating as necessary

Doing away with complex wording

Avoiding a negative tone 

Revisiting phrases that read awkwardly

Fixing grammatical mistakes

Using readability tools such as Hemingway and GDoc SEO Assistant
When writing SEO content, keep in mind how your readers receive your writing. Your sentences should sound fluid, not stiff and stunted. Don't be afraid to add humour and a little personality to your content — this will encourage your site visitors to keep on reading because your content is making them feel good.
Vie for great user experience, and you'll find your site inching closer to the top positions of search results.

5. Follow the recommended content format
When writing content for SEO, follow Google's prescribed guidelines as much as you can. This will minimise the risk of getting flagged by Google for errors, which can lead to lower rankings for your site. 
Here are some guidelines that will help you construct the proper content format:
Move your primary keyword at the beginning of your title. This signals to Google and your readers what your content is about.

Ensure that your meta description falls within the recommended number of characters. This will pique the interest of your readers and prod them to read through your content

Use only one H1 header per article, then organise your succeeding thoughts into subheaders. 

Keep paragraphs short and succint. A 3-sentence or less paragraph is easier to digest for your readers than a 10-sentence text wall.

Add relevant images to your content

If you are engaged in affiliate marketing, make particular note of the format when doing product reviews
6. Plug in relevant keywords
Support your primary keyword by weaving in secondary keywords throughout your content. Secondary keywords refine your content by giving more details about your primary keyword. Avoid keyword stuffing, however, as this reads unnaturally to users and search engines.
Use SEO scoring tools like Surfer, GDoc SEO Assistant, and Thruuu to assess your keyword density. These tools will help you identify what other keywords you can use to increase your optimisation score on search engines.
7. Include internal links
An internal link is any link in your content that leads to another page of your website. Internal linking drives more traffic to your site by nudging readers to read more about other content you've published.
8. Refresh your content
Refreshing your content keeps the site 'green' and updated. When you refresh old content, you are giving a new spin on existing content without having to start from scratch.
There are a lot of ways to do this: you can use a different angle for your blog post topic, add new information that your readers will find useful, or restructure your text format to make it more readable, just to name a few.
Think of a content refresh as a makeover for your blog or web page — it can only get better from here. When you do this and the other tips we mentioned above, you can be optimistic that you'll see your site's ranking move closer to the top positions of search engines' Page 1 results.